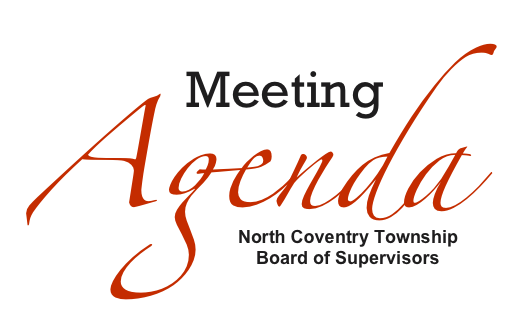 Due to restrictions in regard to COVID-19 virus, The Board is holding its April 13th meeting virtually using ZOOM Conference platform.
Jim Marks is inviting you to a scheduled Zoom meeting.
Topic: North Coventry Board of Supervisors Meeting
Time: Apr 13, 2020 07:00 PM Eastern Time (US and Canada)
Join Zoom Meeting using any electronic device, click link below,
https://zoom.us/j/744359471
Meeting ID: 744 359 471
Dial by landline or cell phone by dialing;
646 558 8656 US (New York)
..and then enter
Meeting ID: 744 359 471
Download the agenda for Monday's Board of Supervisors meeting.  The Board of Supervisors Meeting are held on the 2nd and 4th Monday of each month.  View Township calendar for all meetings
Meeting minutes are approved (normally) at the next scheduled meeting of the board and made available on the township website and social media sites within a few days.  
Supporting Meeting Documents