Dear Amphibian Friends,
Happy Decennial Anniversary! This is the TENTH YEAR that we have been helping the amphibians cross St. Peters and Wells Roads. Yes, with the help of all of you, the North Coventry Township officials and the North Coventry Police we have helped many, many amphibians migrate safely.
Looks like this Winter is over (if we can call that a Winter). Who says Global Warming is just a hoax?? I've gathered up all of our vests, cones and barriers and now we just need to wait for a rainy night.
Our migrations can begin at any time now and are usually finished by early April. On average we have about 3 or 4 nights that we may need to be outside helping the amphibians cross. Here are the three conditions that need to be met if there is going to be a migration:
Temperatures above freezing
Actively raining or very wet
Dark
The safety of our volunteers is of utmost importance.  Any children must have VERY close parental supervision and stay on Wells Road, which the North Coventry Township and North Coventry Police allow us to close so the children can watch and help the amphibians.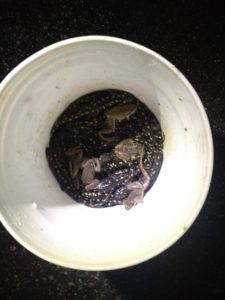 Guidelines for Volunteers
Please come dressed for the weather. Bring a flashlight (head lamps are popular), rain gear, and a non-metallic bucket. Safety vests will be given out at check-in.
Wells Rd. will be closed from Saint Peters Rd. down to a coned off area. It is best to drive in from Hill Camp Rd., onto Wells Rd. and park on the right side of Wells Rd. up to the cones.
Walk up and check-in at my blue Highlander at the top of St. Peters Rd. and Wells Rd. before heading out onto St. Peters Rd. You will be given instructions and a vest.
Volunteers will position themselves on a segment of St. Peters Rd. and watch that section. The majority of amphibians need help crossing St. Peters Rd. directly in front of the vernal pool and short distance to the north.
If a vehicle approaches, you will pick up any amphibians that are in danger and help them cross the road in the direction that they were heading. Sometimes it is very hard to tell so we take them to the side most amphibians are travelling. Bare clean hands are best so it doesn't interfere with the protective coating on the amphibian's skin.
We are NOT allowed to impede traffic in any way.
Try to keep a rough tally of what kind of amphibians you see, how many you see, and which way they are crossing. When you are finished volunteering for the night, please checkout and let us know what you tallied.  The migration usually begins at dusk and the traffic slows by 9 or 10 depending on what night of the week it is.
BBM is the messenger for BlackBerry but is now expanding to Android, iOS, and other platforms. It remains one of the best IM apps out there. BBM for Android Download: Learn How to Install BBM App for Android from Android Store. Stay Connected with Friends.
If you received this email, you are on the email alert list. This means I will send out an email alert to let you know if I think the weather conditions are optimal for a migration.  I try to get an email out around lunchtime. If evening comes and you are still in doubt whether to come out, call my home number or cell. Mother Nature is very fickle and I can only take a good guess at what the amphibians are going to decide to do on a certain night.
Thank you,
Kim White, Coordinator of Volunteers
*If you would like to be taken off the volunteer email alert list, please let me know (otherwise you will be receiving a lot of emails in February and March). If you know of someone that would like to be added, please send me his or her name and email address.