BOARD OF SUPERVISORS Meetings
Download the Agenda and meeting support docs. The Board of Supervisors Meeting are held on the 2nd and 4th Monday of each month.
Meeting minutes are approved (normally) at the next scheduled meeting of the board and made available on the township website and social media sites within a few days.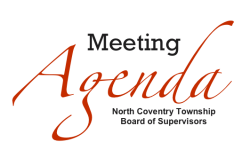 Public Comment submissions can be submitted via email prior to the meeting at ebatdorf@northcoventry.us Emails must be received before 6 pm the night of the meeting to be considered.  
Public comments can also be offered vocally during the PUBLIC COMMENT agenda item or when invited by the Board during the meeting.
Unless otherwise noted, all meetings are held at the Township Building, 845 S Hanover St Pottstown Pa 19465.