Kenilworth Park Disc Golf Course
Disc golf (also called frisbee golf) is a flying disc sport in which players throw a disc at a target, and is played using rules similar to golf.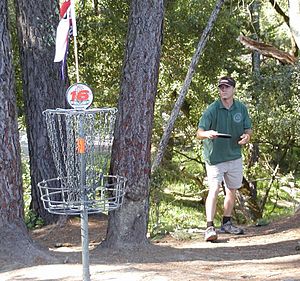 It is often played on a course of 9 or 18 holes, but other formats are common. Players complete a hole by throwing a disc from a tee area toward a target, throwing again from the landing position of the disc until the target is reached. Players seek to complete a course in the lowest number of total throws.
All you really need to play is a flying disc and a desire to have fun throwing it. It's free to play at the Kenilworth Park disc golf course and at most other established courses.
Thus disc golf is one of the most inexpensive pastimes around and a great way to enjoy the great outdoors. Just like in traditional golf, the object of disc golf is to get your disc in the "basket" or "hole" in as few "strokes" or "throws" as possible.
Throw the disc, and then throw again from immediately behind the spot where the disc landed, regardless of its location, until the disc lands in the basket. The disc can be thrown in any way: backhand, forehand, overhand, upside-down, or even by rolling it!  That's really all there is to it.
Any age or ability can play – just get outside and give it a try!
Learn more about disc golf in the video below.
Official rules of disc golf:  http://www.pdga.com/rules
Please add this link to the Disc Golf Site. This is a review of the course from other players and contains information specific with the course: http://dgcour.se/6961 (