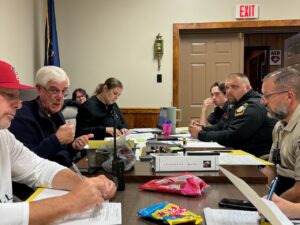 [North Coventry Township, 09-25-2023] – North Coventry Township is pleased to announce the appointment of Robert Esposito, Jr. as the Deputy Emergency Management Coordinator. This appointment comes after the position was left vacant by Brandon Gould, and Mr. Esposito expressed his keen interest in serving the community in this vital role.
Robert Esposito, Jr. is no stranger to emergency management, having served as the Emergency Management Coordinator for Honey Brook, both in the Borough and the Township. His extensive experience in emergency response and management makes him a highly qualified candidate for the position. Mr. Esposito has also recently relocated from Morgantown to South Coventry Township, further cementing his commitment to the region.
Mr. Esposito holds crucial certifications as an Emergency Medical Technician (EMT) and is an active firefighter with the Norco Fire Company. His dedication to public safety and community service has earned him recognition and respect among his peers.
In the process of his appointment, Robert Esposito, Jr. met with key officials, including Chief Deichert, Fire Marshall Comtois, Township Manager Batdorf, and Katelyn Collemacine, the current Emergency Management Coordinator. During these meetings, Mr. Esposito demonstrated a sincere interest in the Deputy Emergency Management Coordinator role, receiving a strong recommendation from Ms. Collemacine for his qualifications and dedication.
Chairman Jim Marks emphasized that Emergency Management is a high-level volunteer service, reflecting the commitment and passion of those who serve in those positions. After some open discussions and the absence of any objections, Supervisor Carrie Hipple made a motion to authorize the appointment of Robert Esposito, Jr. as Deputy Emergency Management Coordinator. The motion was seconded by Supervisor Bill Soumis and it was unanimously carried.
Paperwork will be duly filed with the Commonwealth and Chester County to update North Coventry's records and formalize the appointment, ensuring that the community's emergency management needs are in capable hands.
North Coventry Township welcomes Robert Esposito, Jr. to this essential role and looks forward to his valuable contributions to ensuring the safety and well-being of the residents. His experience, skills, and dedication will undoubtedly be an asset to the community.